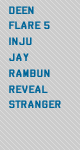 (* 1982, Krimsk)

DJ seit 1997
Location: Stuttgart
bei Basstion seit 2006
DJ, Mixtapes, Mitgestalter bei dnbradio.net und der Basstion Radio Show
Kontakt:

oder per Kontaktformular
> Biographie
Styles & favorite producers
Drum&Bass in all seinen facetten, Breaks & Electronische Musik

Calibre, Martyn, Heist, D Kay, Shy Fx, Visionary, Mr L, Craggz and Parallel Forces, Marcus Intalex, Chase & Status, High Contrast, Drifter, Blame, Commix, Dillinja......
Zitat von DJ VALERIAN:
"Ich finde es enttäuschend, wenn bei einem hammertrack wie "Ill be there for you", J MC nach "Lightern" ruft und neben mir, einer Münchnerin und DJ Rambun im Publikum, von 480 Leuten keiner sein Feuerzeug anmacht....checken das die leute nicht ? Ihr urteilt darüber, dass Gast-DJs lasch auflegen und schafft es nicht, ein Feuerzeug anzumachen, wo andernorts hunderte von Leuten ausflippen?"
Aktueller Mix:
Liquid Funk Session May 07 stream / download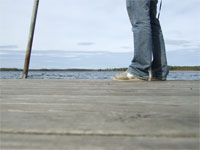 Favorite Tunes atm
Martyn - I wonder why (revolver) , Heist - Why do you hurt me (play:musik) , Motive - Domino (dispatch) , Mr L - Voices in my dreams (Mr L) , Friction - Play the game (valve) , Jenna G - For Lost Friends EP (bingo)
Played at
Stuggi Online (dnbradio.net/Stuttgart)
BodenseeBass (dnbradio.net/Stuttgart)
Basstion (freies radio stuttgart)

Ex-Residence @ Walters Bar (Albstadt)
Ex-Residence @ Club Metro (Friedrichshafen)
Tension (Komma/Esslingen)
Headshot (JUHA SÜD/Sindelfingen)
Reclaim The Beats (Club Douala/Ravensburg)
Get Stoked (Bleifrei/Sonthofen)
Brainstorm (Whatever/Dresten)
Midsummer Beach (La Vespa/Italy)
Rude Club (Club Zollamt/Stuttgart)
Jungle Fever (Relativ/Sigmaringen)
4-Club (Club Zollamt/Stuttgart)
Drum.Shine (Trenchtown/Ulm)
Basslastic (KULA/Konstanz)
U-Turn (Röhre/Stuttgart)

und auf unzähligen parties mit und ohne namen......